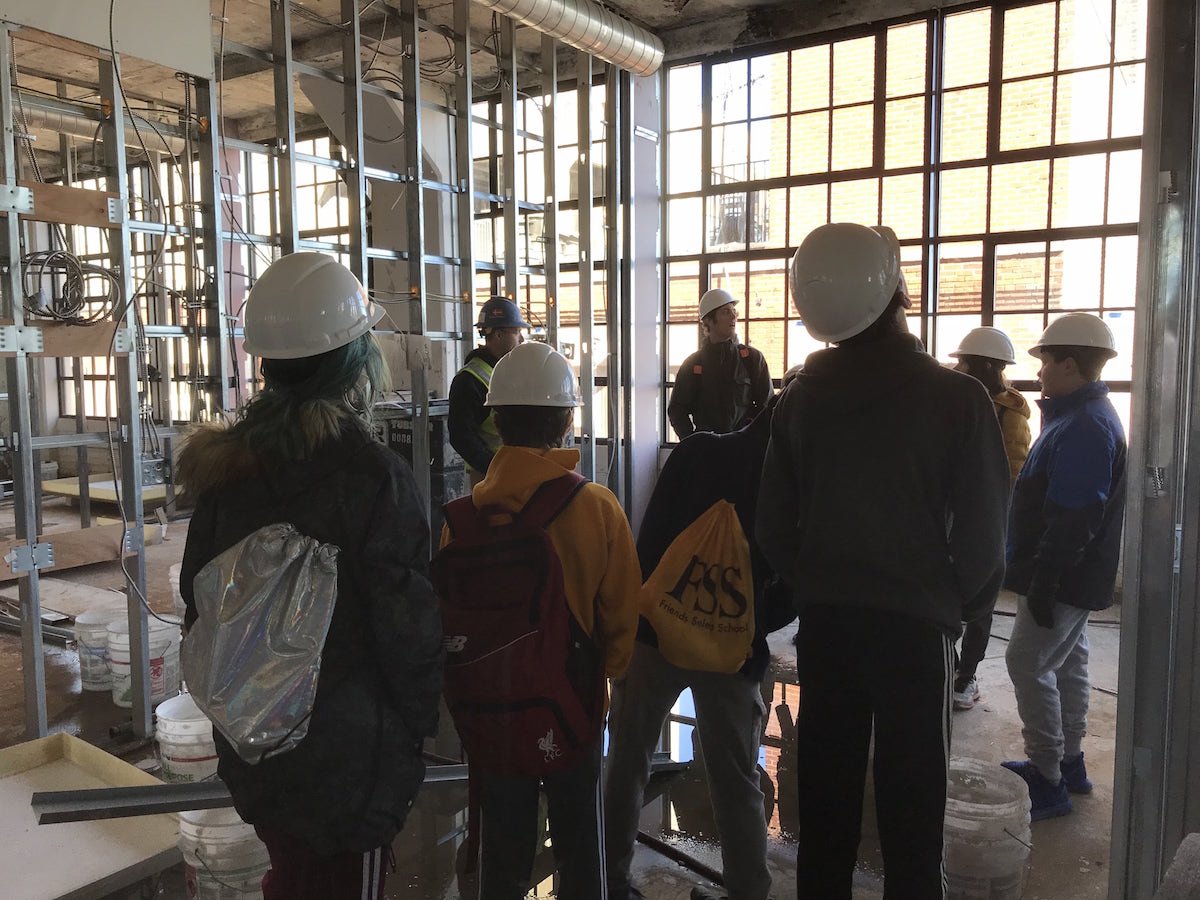 A few weeks ago, we were lucky enough to meet a group of middle school students from Friends Select Middle School for a hard hat tour! We gave the students a tour through one of our newest projects, the Heid Building.
We were one of the students' many stops, as they have been visiting building sites all over the city in recent weeks.
The Students Came Prepared!
The kids from this middle school class visited a number of other construction sites throughout the city. Before we met, we were sent a list of questions to go over with the kids.
Trust us when we say: these kids were prepared! They clearly researched the building very thoroughly, and asked thoughtful questions during the tour.
Some of the questions the students asked included:
What was this building originally designed for?
Did it deliver its purpose well?
What new uses best serve the community or city around it?
What kinds of interventions/adaptations make the most of the best qualities of the building or landscape, and support the new use most creatively?
The Highlight of Our Tour
Our team enjoyed spending time with the Friends Select School middle schoolers! After our tour, we were so excited to receive this note from their teacher:
"I think it speaks super highly of your company (and of you) that you all were eager to arrange this and share some of your processes with the kids. At the end of the day, many of them said it was their favorite thing from the day. Seeing the finished building would be great!"
There's nothing we love more than giving back to our community, and being able to share our passion with such an active middle school class was an amazing experience!
More About the Heid Building
The Heid Building is a historic building at the corner of 13th and Callowhill in Philadelphia. Once we're finished with construction, it will be a vibrant mixed-use community with 96 ultra-modern condominiums.
When it was first built, the Heid Building was home to Philadelphia's largest hat manufacturer at the time, the Frank P. Heid & Co. hat factory.
It has exposed ceiling heights beginning at 12 feet, industrial window lines, and large open floorplans.
But Wait, There's More!
Not only will it house luxurious condominiums, it will also boast a beautiful rooftop area with a dog walking park, hammock lounge, gardens, co-working space, and fitness center.
Interested in Learning More About Our Projects?
We would love to share some additional details with you! We have a lot of exciting projects going on, so if you're interested you can take a look at them on our website.
Have a specific questions about a project, or Philadelphia real estate in general? Please reach out to us.